Cyprus citizenship by investment
Since 1992, Feod Group experts have been assisting clients, both in the process of selecting the most attractive investment projects, and in all stages of obtaining Cyprus citizenship.
ADVANTAGES OF OUR SERVICES:
√ a large selection of investment offers not only in real estate, but also in financial portfolios, Cypriot companies, land, the purchase of a ready-made business, stocks;
√ the ability to reduce investment costs by half;
√ independent certified assessment of investment value;
√ investment packages that are not on the open sale;
√ registration of a passport from 15 000 € for the whole family; (NOT SURE WHAT THIS MEANS)
√ collection of confirmations of sources of income from different jurisdictions of a client's business;
√ Feod Group customers have the opportunity to receive a return on investment of more than 50% in 2 years;
√ our client receives not only a Cyprus Passport, but also a return on investment service with income;
√ Accredited Cyprus Lawyers.
We invite you to the first meeting (in person or via Skype) with the Directors and attorneys of Feod Group. The meeting is free of charge.
By appointment, +357 99 849 525 (WhatsApp) or +38 050 393 90 30 (Viber / WhatsApp) or e-mail: info@feodgroup.com
During the meeting you can:
become

acquainted with the capabilities of the company

obtain

answers to your questions
discuss available unique investment

opportunities

OBTAIN PROFESSIONAL ADVICE FROM AN IMMIGRATION LAWYER
We can also offer you an extended paid consultation. The cost of the consultation is 250 euros.
WHAT THE CUSTOMER WILL RECEIVE AT THE PAID CONSULTATION:
a full assessment of the applicant's chances and identification of weaknesses in the provision of supporting documents;
issuing recommendations on the confirmation of sources of income from various jurisdictions;
tax planning based on the individual situation of the client;
providing unique investment offers with the option of guaranteed return of funds;
an exclusive opportunity to quickly return an investment from Feod Group.
Cyprus Citizenship Program
The program for obtaining Cyprus citizenship is one of the simplest and definitely the fastest in the European Union: within 6 months from the date of registration – you obtain a Cyprus passport.
the investor and his family receive all the rights of an EU citizen
no residency requirements in Cyprus
significant tax benefits + tax resident status
the right to reside and work in any country of the European Union
By a decision of the Council of Ministers of March 19, 2014 (as amended on May 21, 2018, which entered into force on August 1, 2018), a decision was made on the action of the Cyprus citizenship for investment program.
The latest changes to the Cyprus Investment Program were adopted on February 13, 2019 by the Council of Ministers of the Republic of Cyprus and entered into force on May 15, 2019.
The main changes to the Cyprus citizenship program, came into force on 05/15/2019:
The applicant must donate €75,000 to the Research and Innovation Support Fund.
This obligation can be completely canceled subject to certain conditions: if the applicant invests at least €75,000 in a certified company of the Ministry of Finance, in the development of an innovative business or social security under investment option A.2 (investment in financial assets of Cyprus companies and Cypriot organizations).
Mandatory donation of 75,000€ to the Land Development Corporation for the implementation of affordable housing projects. This obligation cannot be reversed.
The applicant must maintain his investment in Cyprus for at least 5 years from the date of registration of citizenship (until May 15, 2019, the minimum period is 3 years).
The opportunity to invest in government bonds has been canceled.
Investments in the Cyprus shipping sector will be considered as an acceptable criterion for the Cyprus Investment Program.

OBTAIN PROFESSIONAL ADVICE FROM AN IMMIGRATION LAWYER
Limitations and Terms
Mandatory confirmation of the legality of the source of funds.
There is a limit of 700 approved applications per year.
The term of preservation of investments is 5 years (until May 15, 2019, the minimum term is 3 years).
If an investor previously applied for citizenship in any other EU member state and it was rejected, then he is not entitled to obtain a Cyprus passport under the Cyprus Citizenship by Investment program.
No criminal record, sanctions, restrictions or prohibitions on entry into the EU, USA, UK and Canada.
Investment criteria for obtaining Cyprus citizenship by investment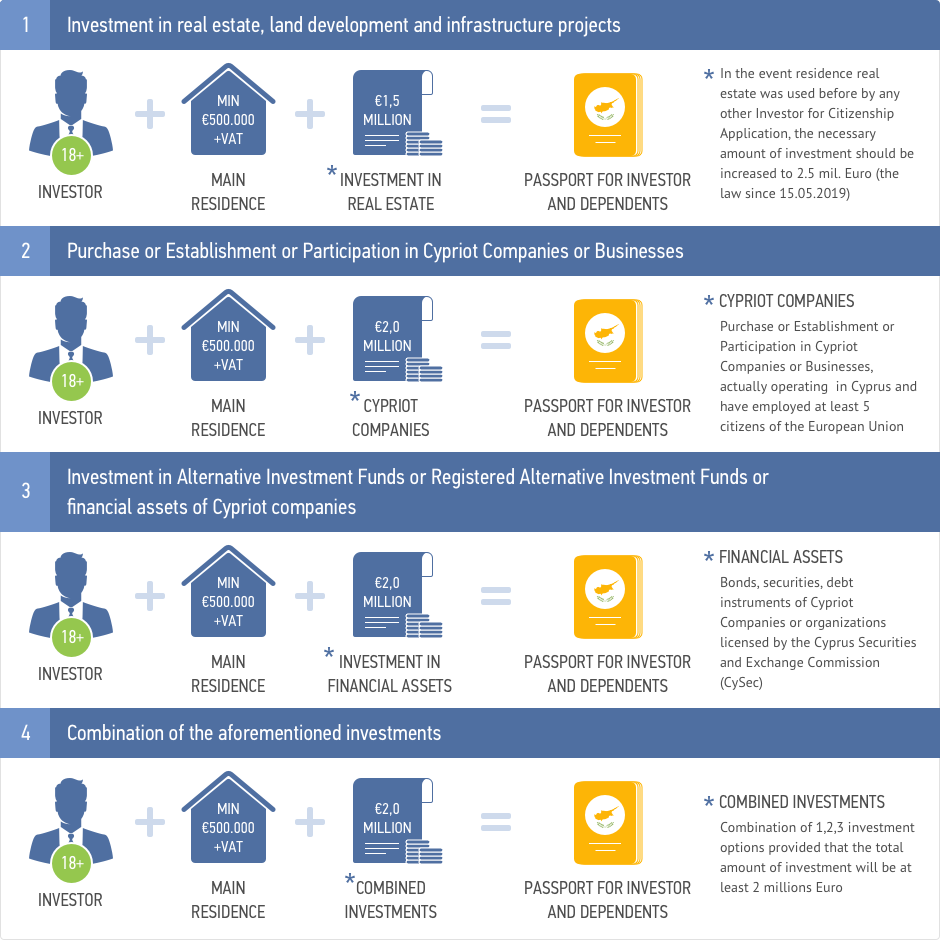 OBTAIN PROFESSIONAL ADVICE FROM AN IMMIGRATION LAWYER
Possible investment options:
Obtaining a Cyprus Passport by investments is possible with the help of other options, except for direct purchase of real estate (residential or commercial) for 2 million euros, for example:
1. Purchase of ready real estate with tenants.
It is a reliable investment method similar to storing money in a bank, but on more favorable terms. Since the property that is rented out, not only brings a stable income, but also constantly grows in price, unlike cash, which is subject to inflation.
Investors get these benefits: annual stable income + win on rising real estate prices.
The income from the purchase of finished real estate is 5-8% per annum.
0% tax on income from rental property.
2. Participation in a joint development project.
Such a partnership agreement is provided with a bank guarantee of return on investment;
The ownership of land and real estate is transferred to the investor at the time of signing the purchase and sale agreements;
Opportunity of a client to purchase a square meter at a price lower than market value by 30-50%;
Parcial payment.
3. Investment or the creation of its alternative investment fund (AMF).
Alternative Investment Funds licensed by the Cyprus Securities and Exchange Commission (CYSEC);
Maximum protection of investments and their return;
0% tax on dividends and VAT.
4. Investments in shares of large Cypriot companies with the buyback option.
Return on investment guarantee;
Lossless investment in the case of a descrease of stock prices;
0% tax on dividends and VAT.
Feod Group has extensive practical experience and provides services for all of the above options for possible investments for obtaining Citizenship of Cyprus.

OBTAIN PROFESSIONAL ADVICE FROM AN IMMIGRATION LAWYER
Cyprus Tax Resident
Please note that obtaining Cyprus citizenship does not automatically result in becoming a tax resident in Cyprus.
Cyprus offers foreigners who will reside in Cyprus 60 days in a year the opportunity to obtain the status of tax resident of Cyprus (non-domiciled resident).
The main advantage of the status of a non-domicile resident of Cyprus is the full exemption from taxes on dividends and interest on deposits, as well as other tax benefits for the next 17 years.
Clients can transfer their tax resident status to Cyprus in the process of applying for permanent residence of Cyprus or citizenship of Cyprus.
Advantages of obtaining citizenship of Cyprus:
In order to obtain citizenship of Cyprus, it is necessary to go through all legal processes, the duration of which takes about 6 months;
Citizenship of Cyprus is granted to the spouse of the investor, financially dependent adult children under the age of 28 years and parents of the investor. Spouse (s) and adult children do not need to meet with the list of financial criteria;
There is no requirement for knowledge of the Greek language and\or previous residence in Cyprus;
Dual citizenship allowed;
Other states are not informed that you have received a Cyprus Passport;
Citizenship of the Republic of Cyprus is passed to the next family descendants;
All rights of an EU citizen are protected by the laws and regulations of the European Union: freedom of residence in any EU country, study, work, conduct business, transfer capital;
Possibility to change tax residence in Cyprus;
High return on investment in construction projects in Cyprus;
Reliable asset protection;
Visa-free travel for 168 countries, including all countries of the European Union, Canada and Australia.

OBTAIN PROFESSIONAL ADVICE FROM AN IMMIGRATION LAWYER
Stages of obtaining citizenship of Cyprus:
1. A detailed consultation and assessment of the client's chances regarding compliance with the requirements of the "Citizenship of Cyprus for Investment" program – before concluding the contract.
2. Choosing a method of investing and signing a contract at the office of Feod Group.
This phase includes:
Services for the preparation of documents confirming the source of funds and opening an account with a bank in Cyprus;
Opening accounts with leading banks, registration of Cyprus companies;
A thorough examination of each investment object and providing the client with an independent appraiser certified by RICS (Royal Institution of Chartered Surveyors);
Carrying out the necessary negotiations on behalf of the client with sellers of real estate and other commercial organizations;
Drawing up sales and purchase agreements, agreements with investment funds, employment contracts, etc;
Registration of contracts in Cyprus Land Authority, payment of stamp duties, taxes, making payments according to the investment agreement, obtaining the relevant permits of the Council of Ministers of Cyprus;
3. Submission of documents for obtaining citizenship and representing the interests of clients and members of his family in the public authorities of Cyprus, obtaining certificates, permits and escorting clients to obtain passports, ID-card of a citizen/s of Cyprus.
4. Obtaining a Cyprus Passport.

OBTAIN PROFESSIONAL ADVICE FROM AN IMMIGRATION LAWYER
Why do Clients choose Feod Group:
With over 27 years of experience, Feod Group has united a team of professionals who can assist and support you in obtaining a Cyprus passport by investment or residence permit.
Our company includes British and Cypriot lawyers, accredited consultants, appraisers of residential and commercial real estate, financial consultants who will provide you with a full range of services for making a safe investment in Cyprus.
Within the program, the citizenship of Cyprus by investments The Feod Group provides its clients with a unique combination of investment, corporate and immigration services, in which our client receives not only a Cyprus Passport, but also a return on investment service with income.
Since 2016, thanks to the option of investing in construction projects, and land purchase introduced in the Cyprus passport program, Feod Group Clients have the opportunity to receive a return on investment of more than 50% for 2 years.
Cyprus is an island with its own specifics, where in order to solve all the issues you will need qualified professionals with reliable relations with public and private institutions and an excellent reputation. The Feod Group guarantees and will provide you with this.
If you are interested in obtaining Cyprus citizenship by investment, the directors of Feod Group will be happy to meet with you and discuss in detail your case and our range of services.

OBTAIN PROFESSIONAL ADVICE FROM AN IMMIGRATION LAWYER
Countries where we offer visa and immigration support: