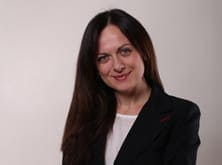 Julia Kalina
Partner
Spain
In 2003 graduated from the Taras Shevchenko Kyiv National University, Institute of International Relations with a degree in international law, private international law specialization.
In 2010 obtained the degree of Master of Laws (LL.M) from the University of Valladolid, Spain, with a specialization "Spanish Law".
In 2012 joined the Bar Association of Barcelona, Catalonia, Spain. A practicing immigration lawyer in Spain.
Has extensive experience in international, corporate law as part of international corporations, and representing clients in state and judicial bodies in Spain and in Italy, delivering advocate practice (Barcelona and Rome), participation in international exhibitions of estate and investments .
Julia Kalina advises and accompanies clients of Feod Group on:
immigration, civil and corporate law in Spain and Italy;

investment planning and business acquisition;

property acquisition;

academic planning \ business career abroad;
Fluent in Russian, Ukrainian, English, Spanish, Italian, French.